Premium collagen powder with adaptogens
00

people are currently looking at this product
Premium collagen powder with adaptogens
00

people are currently looking at this product
SAVE 15% WITH BUNDLE
GREAT DECISION! 🎉 MOST people CHOOSE THIS PACKAGE.

Free shipping for orders above 100€
Award-winning
Express delivery (2-3 days)
Klarna, iDeal
To glowy skin in less than 8 weeks with one drink! 🧪
Patented Skinax2TM & Naticol® - a unique skin mix with synergistic effect
The latest innovation in beauty drinks that helps improve your skin from within
Clinically proven to help reduce the appearance of wrinkles for more than 25%
Clinically proven to improve skin elasticity and hydration
Slows down the skin's aging process
Peach flavour 🍑
Good to know
Patented ingredients
5g of collagen per dosage
No fishy aftertaste
21 servings
Skinax2TM is a patent pending formula of natural antioxidants with collagen-boosting properties. Clinically proven to boost the skin's natural antioxidant defenses, help restore skin radiance, and slow down the skin's ageing process.

Naticol® & Hydrolised Bovine Collagen - a premium combination of 2 collagen types clinically proven to reduce wrinkles and contribute to firm, more moisturised skin

Goji berries - rich in vitamin C

Amla berries are known to have strong antioxidant properties since it is rich in ascorbic acid. Amla extracts have proven benefits of brightens skin, fights signs of aging, protects skin barrier, hydrates skin.

Vitamin C contributes to normal collagen formation for the normal function of skin

Zinc contributes to the maintenance of normal hair, skin and nails and to the protection of cells from oxidative stress

Synergistic effect of Zinc and Vitamin C "proven in vitro"
Naticol (Hydrolized fish collagen), Hydrolized bovine collagen, Aroma, Citric acid (acidity regulator), Ascorbic acid (Vitamin C), Skinax2 (Vitis vinifera seed extract, Cucumis melon fruit extract, Zinc citrate, Vitamin C), Emblica fruit extract (Phylantus emblica), Goji fruit extract (Lycium barbarum), Sucralose (sweetner).

Volume: 21 servings
How to drink/enjoy it?

Mix 1 serving of powder (6,5g = 1 scoop) with 200ml water and wait 5 minutes for the powder to completely dissolve. Drink cold.
How many servings a day?
How much collagen you should take each day depends on how fast you want to achieve your goals. It is recommended to take 1 serving daily - if you want faster results we recommend 2 servings per day. Between 6,5-13 grams of Super Glow a day will give you visible results.

One serving a day is ideal if you want to reduce facial lines and wrinkles and skin elasticity as well as reduce dark spots and brighten the skin in as fast as 5 weeks.

Storage: Store away from sunlight and heat, at a room temperature and under 65% relative humidity.

Warning: Keep out of reach of small children. This food supplement is not a substitute for a balanced healthy diet. Do not exceed the recommended daily intake.
Smartfoods® is an innovative supplement line that focuses on the connection of the gut with your skin. Minimalistic but powerful scientifically backed and high-quality ingredients work together to make you glow from within.

Fast diets and modern-day problems have made our digestive tracts and skin look like barren deserts. It's time to work on those problems smarter, not harder. Smartfoods® will give your body results that last and are easy to maintain.

The line consists of Super Glow collagen powder with adaptogens and Gut Love probiotic blend - your daily essentials for a healthy gut, glowing skin, strong hair and nails.

Gut Love is a comprehensive blend of microbiological cultures and fibres with 20 billion alive and active bacteria and curcumin for additional immune support. It was designed to rebalance your skin microbiota and promote healthy skin. If you're looking for a super-convenient supplement to keep your digestive system balanced, this one's for you.

Super Glow is a unique blend of antioxidative superfoods and collagen peptides that clinically proven work together for radiant skin and healthy hair & nails. Superstar ingredient is a patented SkinAx2™ - clinically proven to restore skin radiance and slow down the ageing process. Enjoy our powerful formula, designed to reduce signs of ageing by promoting collagen production and promote skin regeneration.

By combining collagen and probiotics, these two advanced food supplements work even better together, delivering balance in your gut and visible results on your skin complexion.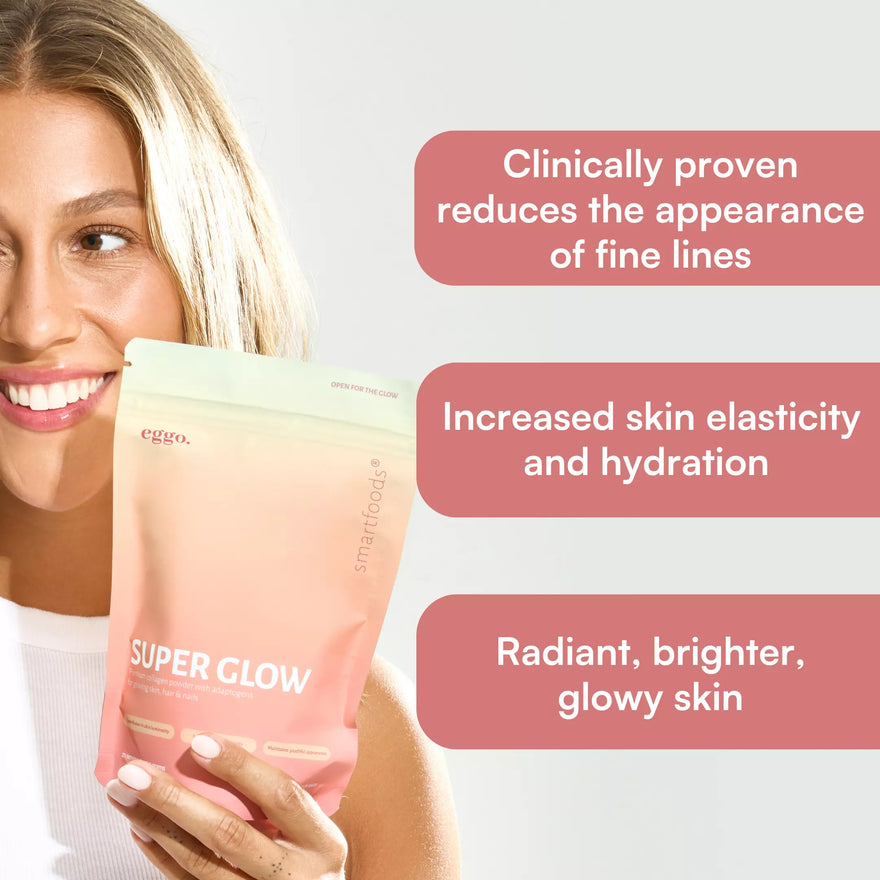 Clinically proven results
Our patented ingredients have a clinically proven synergistic effect on skin luminosity, radiance and collagen synthesis and work to brighten the skin's complexion from the inside out. Reduce dark spots and improve the skin's brightness with one drink. This is Smartfoods®.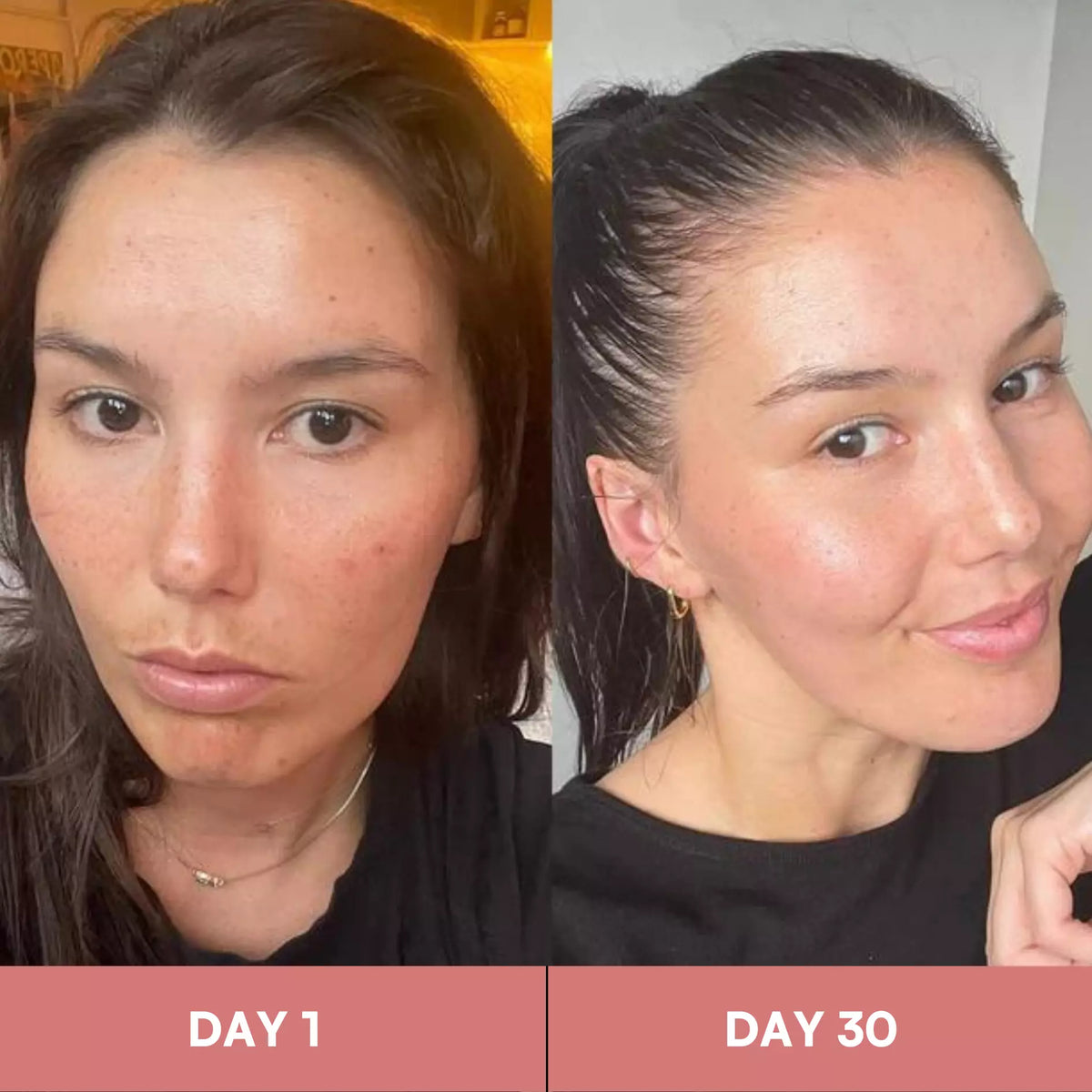 Results from users
"I've been taking this collagen supplement for a few months, and I'm impressed with the results. My skin looks healthier, and my nails are stronger." Sarah M.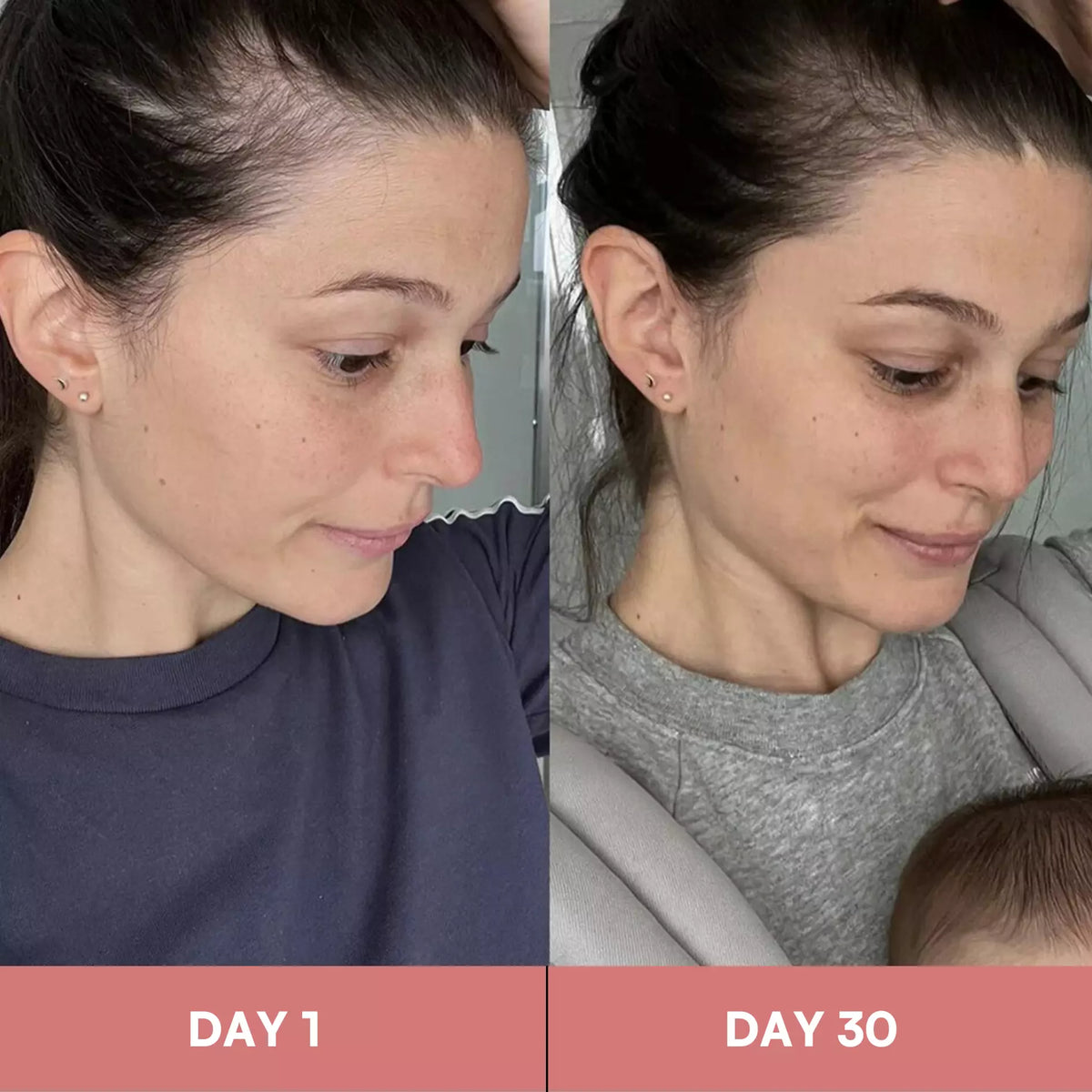 Results from users
"I've experienced less hair thinning since incorporating this collagen supplement into my routine. My hair feels thicker and healthier." Olivia H.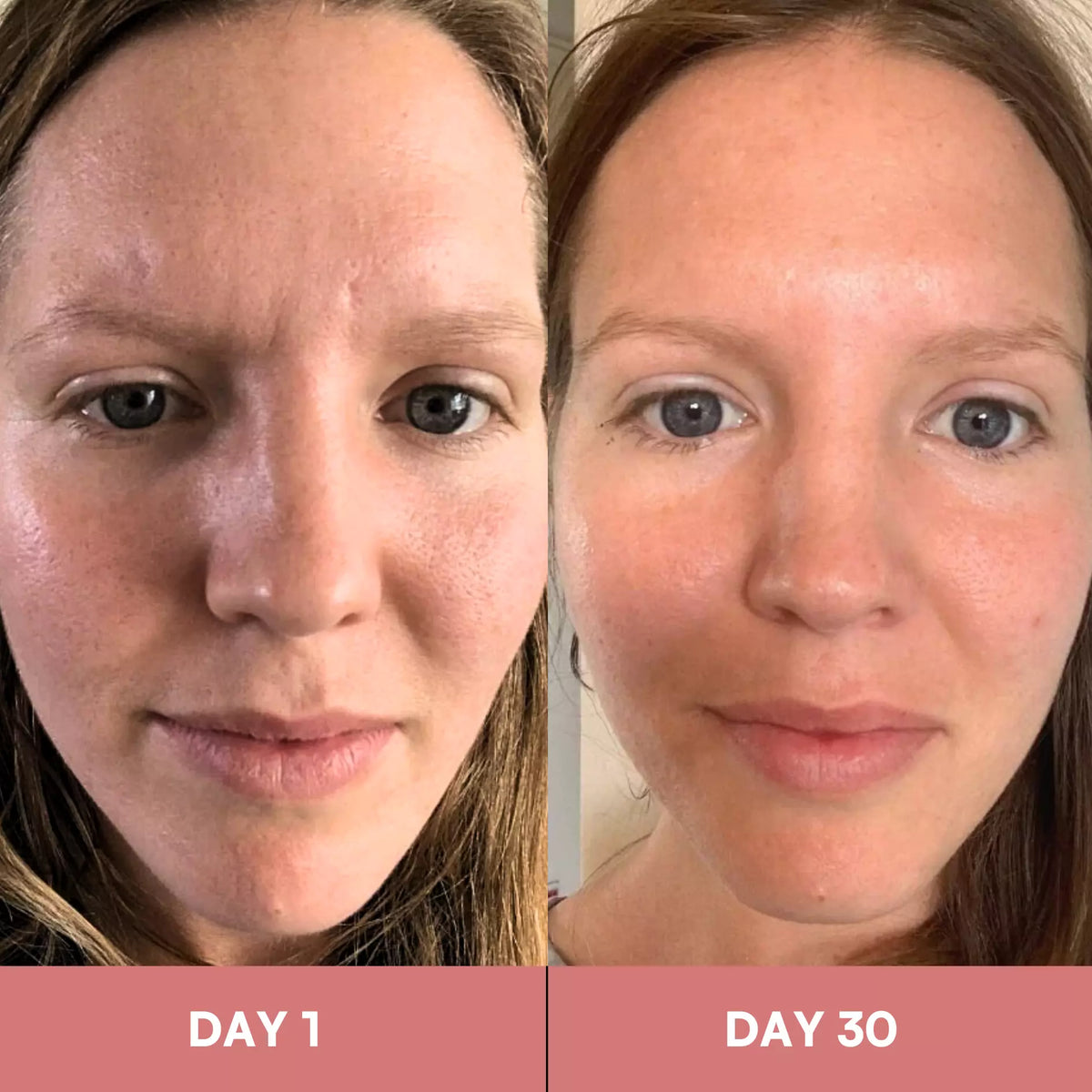 Results from users
"My skin texture has improved since I started using this collagen supplement. It's not a miracle, but I do notice a difference in its overall quality." Mia L.
Patented premium super ingredients
Upgrade your routine and improve skin glow from week to week
SkinAx2TM
Clinically proven collagen boosting ingredient that improves skin radiance with melon and grape extract, zinc and vitamin C
Naticol®
Clinically proven to improve skin's radiance and contribute to reduction of fine lines and wrinkles
Amla & Goji berries
Rich in vitamin C and its antioxidative properties that protect the cells from oxidative stress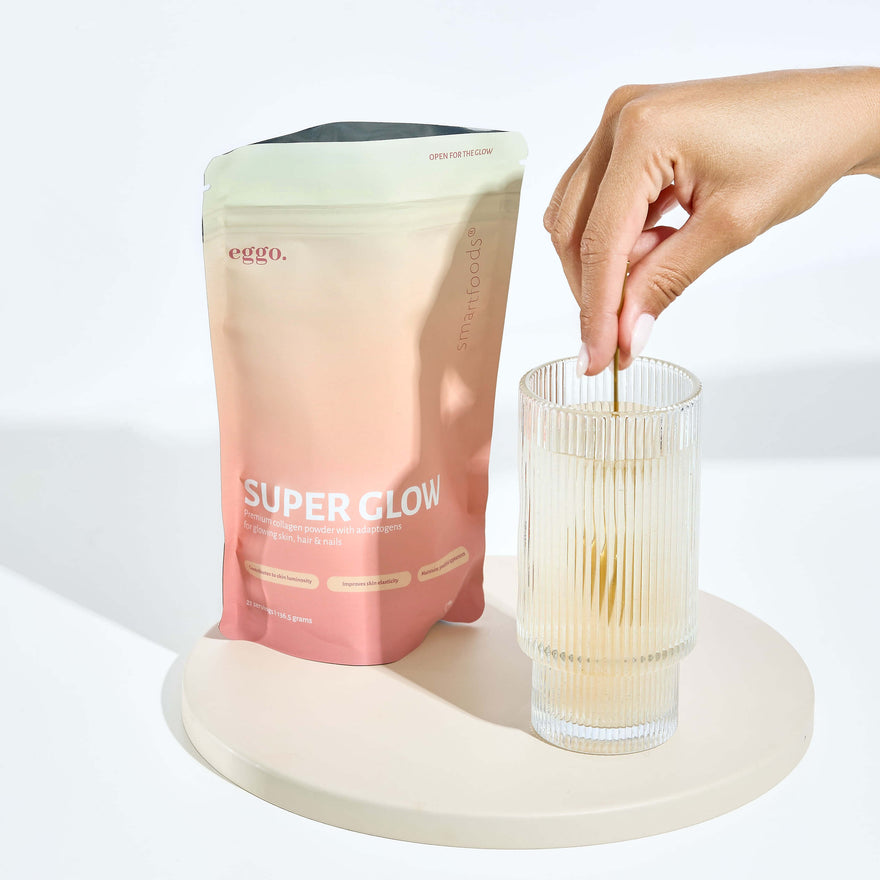 To glowy skin in less than 8 weeks with one drink! 
The latest innovation in beauty drinks that helps to improve your skin's condition from within.
Free delivery for orders over 100€
100% money-back guarantee
Winner of 4 Beauty Awards