Magic Pads - Pack of 3
Washable make-up remover pads
Magic Pads - Pack of 3
Washable make-up remover pads
SAVE WITH BUNDLE
GREAT DECISION! 🎉 MOST people CHOOSE THIS PACKAGE.

Free shipping for orders above 100€
Award-winning
Express delivery (2-3 days)
Klarna, iDeal
Effectively remove all make-up in 1 minute, with just water.
The most sustainable and modern way to remove makeup
Use with no additional skin cleansing products, just water
Suitable for all skin types, especially for sensitive and oily
Non-irritating
GOOD TO KNOW
Reusable
Machine washable
Environmentally friendly
Use just with water
Removes all make-up with just water

No burning eyes or irritated skin

Save up to 3,000 cotton pads a year

Washable and reusable

Use for up to 3 years
Ok first, does it really work?
Try it and return it if it doesn't. 😝 Our pads were designed to remove even waterproof makeup using only water. If you really want to deeply cleanse your pores too, we recommend a double cleanse which can be done with our 100% natural face cleansing gel.
What should I use EGGO Magic Pads with?
The only thing you need is water. 💧 Rinse the pad well in the water, then squeeze to remove the excess of it. The pad is now ready to remove your makeup effectively.
Can I use it over the eyes?
Yes, of course. Our pads remove waterproof makeup too. When using over the eyes, we recommend you place the pad on one eye and wait for a few seconds for the water to melt the mascara and the fibres to activate. Then gently wipe away the mascara and eye makeup.
Can I use it multiple times a day?
Yes, you can use it whenever you need to remove your makeup.
How do I wash them?
Simply put them in the washing machine - and wash them with similar colours at a temperature of up to 60 degrees, preferably without the fabric softener. Air-dry, do not tumble-dry.
How often should I wash them?
We recommend washing them after every use. Keep in mind that it is the easiest if you have one pad available for each day, so you do the washing only on the weekends. 😉
Material: 100% cotton microfibre
Care: Wash with similar colours at a temperature of up to 60 degrees Celsius, preferably without the fabric softener. Air-dry, do not tumble-dry.
All orders are shipped
from Europe.
Standard Delivery - 4.90€ |
Free for orders above 100€
(3-6 days)
Express Delivery - 14.90€ | Get it within 2-3 business days from dispatch
If the product is in stock, then we ship on the same day, if the order is made until 1pm. All orders that are made during the weekend are shipping the next working day. GLS (Standard Delivery) and DHL (Express Delivery) takes care for fast delivery and makes sure that your package arrives on time.
95 %
EGGO babes no longer buy ordinary cotton buds
91 %
EGGO babes would recommend to a friend
93 %
EGGO babes say they work as promised
Say goodbye to conventional cotton pads 👋🏼
Eco-friendly EGGO Magic Pads are made from special 2-ply EGGO Fibres™ that are activated just with water and effectively remove even water-resistant make-up. Save up to 3000 cotton pads a year and switch to reusable pads.
How to use
Wet, remove, reuse!
1. STEP
Wet the cotton pad with lukewarm water (the warmer the better)
2. STEP
Remove make-up
3. STEP
Machine wash
So easy, so EGGO!
Wet the EGGO Magic Pad under water to soften and damp the fibres, then squeeze it to remove excess water. Gently run all over your face in circular motions and wet the pad again if necessary. After use, rinse under water and allow to air dry. Machine wash once a week.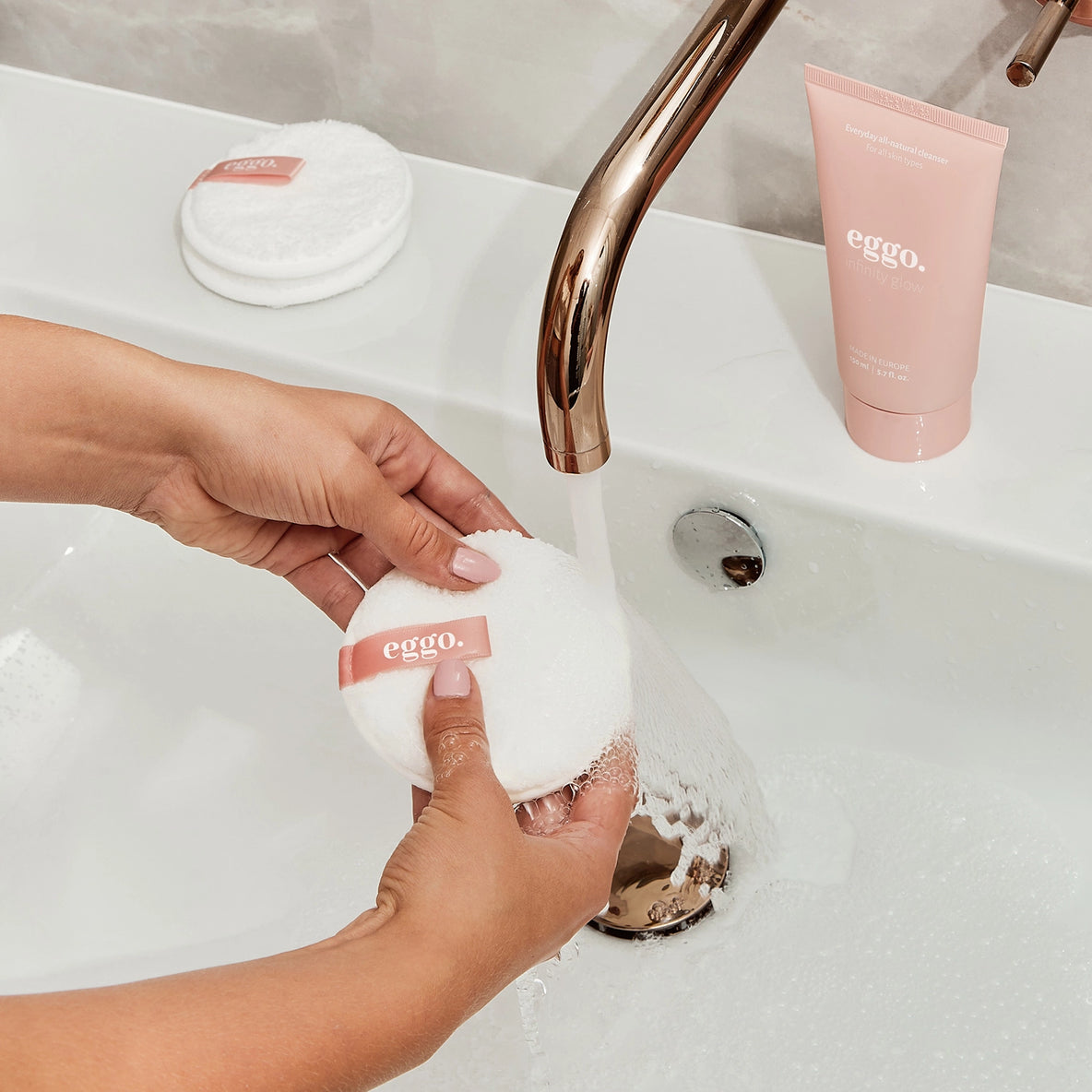 Wet, remove, reuse!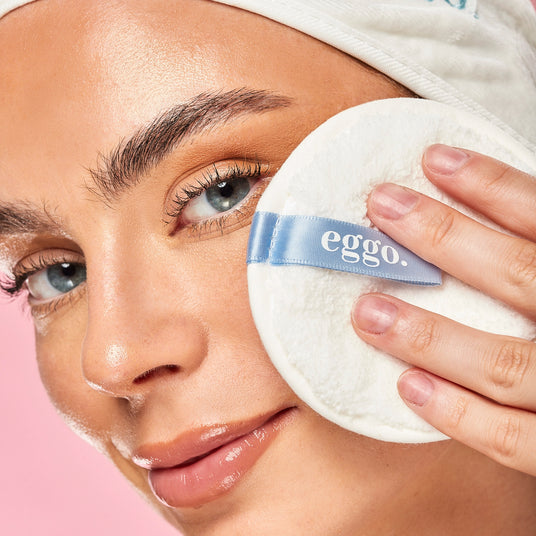 Free delivery for orders over 100€
100% money-back guarantee
Winner of 4 Beauty Awards