Balance digestion and improve your skin from within
00

people are currently looking at this product
Balance digestion and improve your skin from within
00

people are currently looking at this product
Free shipping for orders above 100€
Award-winning
Express delivery (2-3 days)
Klarna, iDeal
Benefits
This bundle includes
To a balanced digestion and glowy skin with one drink and capsule per day.
The latest innovation in beauty drinks that helps improve your skin from within
Clinically proven to help reduce the appearance of wrinkles for more than 25%
A unique mix of microbiological cultures that support your gut & skin from within
Delayed-release capsules deliver active and alive bacteria to your gut
Contributes to improved digestion and a balanced skin & gut microbiome
good to know
5g of collagen per dosage
No fishy aftertaste
Patented ingredients
20 bilion bacteria in one capsule
1x Super Glow

1x Gut Love
Super Glow:
Naticol (Hydrolized fish collagen), Hydrolized bovine collagen, Aroma, Citric acid (acidity regulator), Ascorbic acid (Vitamin C), Skinax2 (Vitis vinifera seed extract, Cucumis melon fruit extract, Zinc citrate, Vitamin C), Emblica fruit extract (Phylantus emblica), Goji fruit extract (Lycium barbarum), Sucralose (sweetner).
Volume: 21 servings


1 capsule (a daily dose) contains:
Mixture of microbiological cultures* 235mg
Lactobacillus plantarum 1B CFU
Lactobacillus reuteri 1B CFU
Lactobacillus rhamnosus 1B CFU
Lactobacillus paracasei 1B CFU
Bifidobacterium lactis 1B CFU
Lactobacillus acidophilus 1B CFU
Bifidobacterium longum 2B CFU
FOS 100 mg
Inulin 100 mg
Turmeric powder 20 mg
Black pepper extract 5 mg of which piperine 4,75 mg
CFU: Colony Forming Units
Volume: 30 capsules



Smartfoods® is an innovative supplement line that focuses on the connection of the gut with your skin. Minimalistic but powerful scientifically backed and high-quality ingredients work together to make you glow from within.

Fast diets and modern-day problems have made our digestive tracts and skin look like barren deserts. It's time to work on those problems smarter, not harder. Smartfoods® will give your body results that last and are easy to maintain.

The line consists of Super Glow collagen powder with adaptogens and Gut Love probiotic blend - your daily essentials for a healthy gut, glowing skin, strong hair and nails.

Gut Love is a comprehensive blend of microbiological cultures and fibres with 20 billion alive and active bacteria and curcumin for additional immune support. It was designed to rebalance your skin microbiota and promote healthy skin. If you're looking for a super-convenient supplement to keep your digestive system balanced, this one's for you.

Super Glow is a unique blend of antioxidative superfoods and collagen peptides that clinically proven work together for radiant skin and healthy hair & nails. Superstar ingredient is a patented SkinAx2™ - clinically proven to restore skin radiance and slow down the ageing process. Enjoy our powerful formula, designed to reduce signs of ageing by promoting collagen production and promote skin regeneration.

By combining collagen and probiotics, these two advanced food supplements work even better together, delivering balance in your gut and visible results on your skin complexion.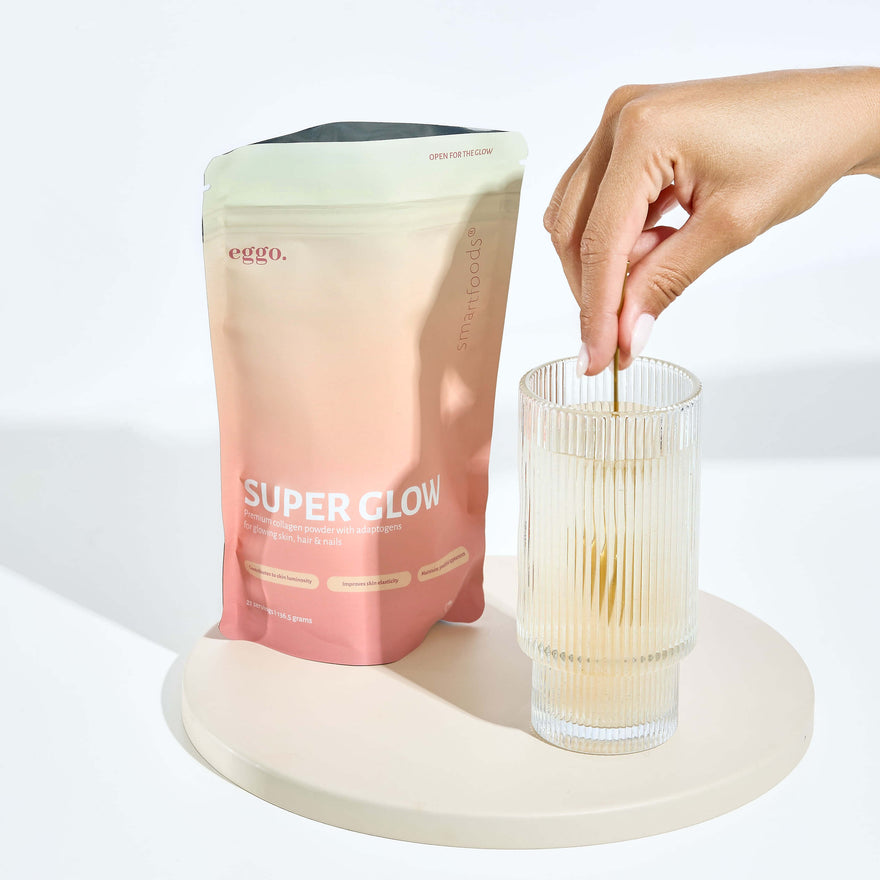 Super Glow collagen drink with adaptogens
Our patented ingredients havea clinically proven synergistic effect on skin luminosity, radiance and collagen synthesisand work to brighten the skin's complexion from the inside out. Reduce dark spots and improve the skin's brightness with one drink. This is Smartfoods®.
Gut Love capsules with 7 (alive) bacteria strains
Advanced delayed-release capsules deliver up to 20 billion live and active bacteria with 7 different strains into the gut in one capsule, restoring balance in the gut and supporting the skin from within. Say goodbye to sluggish digestion, constipation and bloating!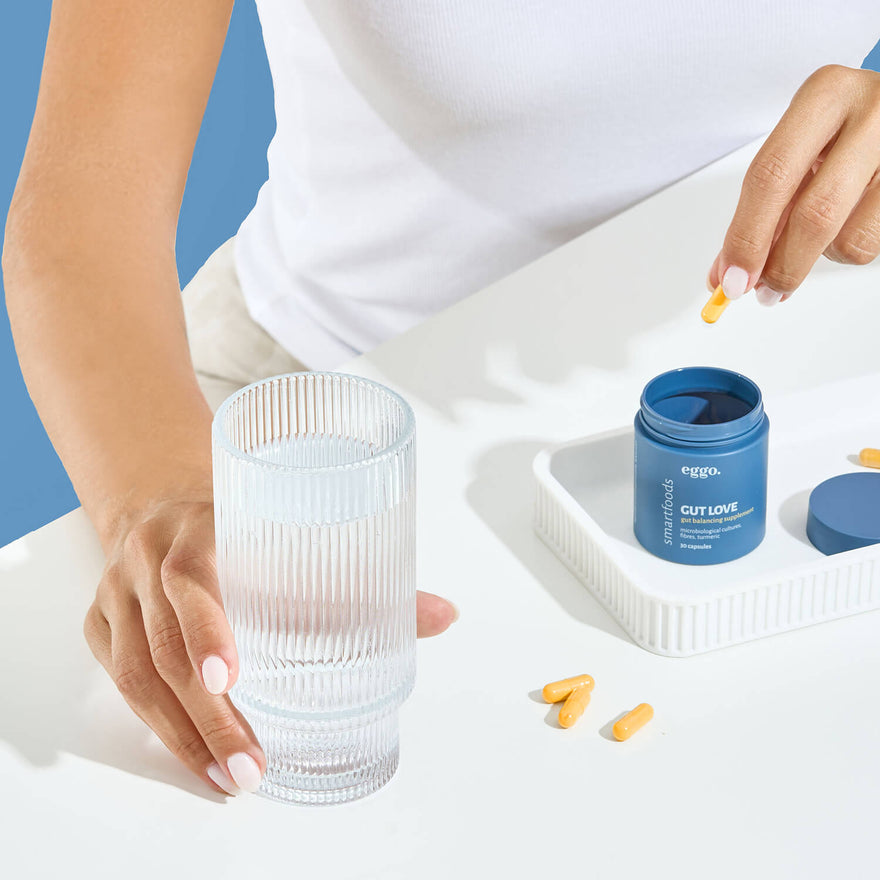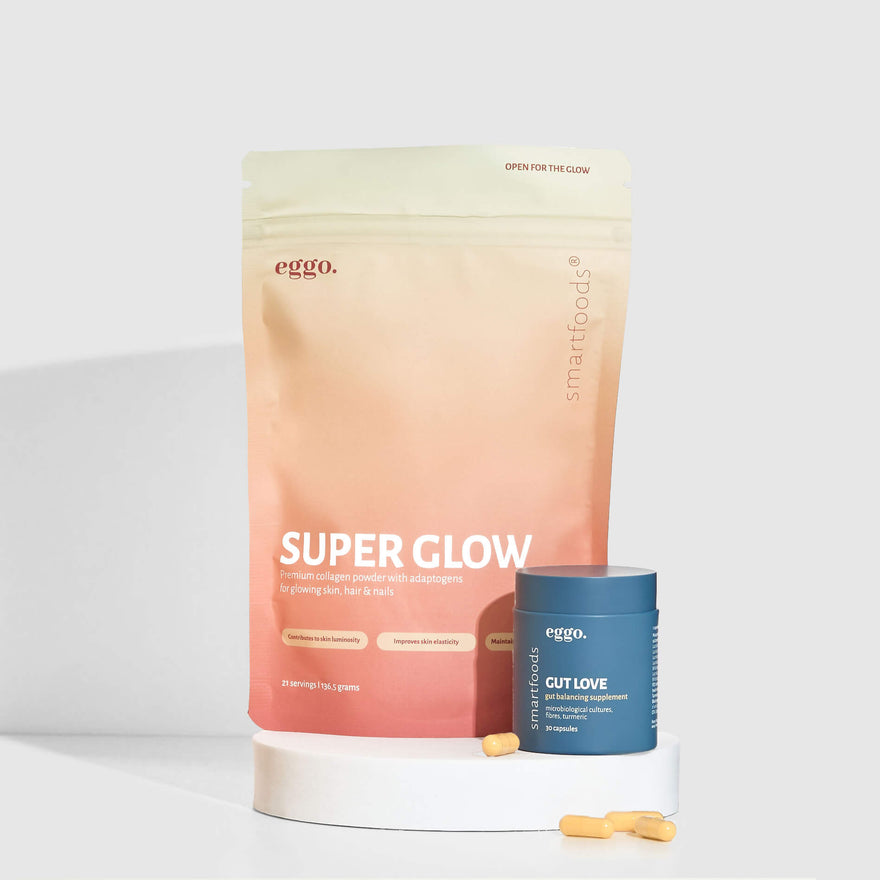 Smartfoods bundle
The perfect bundle for glowy skin and a balanced digestion that helps you to feel and look better.
Free delivery for orders over 100€
100% money-back guarantee
Winner of 4 Beauty Awards