"Natural, affordable and skin friendly. The only thing I am using this summer. ☀️"
Anna
The best tanning jam for faster and deeper tan
00

people are currently looking at this product
"Natural, affordable and skin friendly. The only thing I am using this summer. ☀️"
Anna
The best tanning jam for faster and deeper tan
00

people are currently looking at this product
Free shipping for orders above 100€
Award-winning
Express delivery (2-3 days)
Klarna, iDeal
Achieve natural bronze tan and nourished skin that lasts all summer.
Extremely nourishing formula that can be used all year long
Clinically tested ingredients that provide deeper and long-lasting tan
Amazing smell - a refreshing summer cocktail 🍹
Can be used as a body lotion due to its nourishing ingredients
Vegan, natural oils, parabene & sulfate-free
Suitable for all skin types
Beta-carotene (Carrot root extract) accelerates the production of the skin pigment melanin and maintains a tanned complexion. It is a powerful antioxidant and emollient that also nourishes the skin. It helps to accelerate and maintain the appearance of the skin's natural tan.

Cacao seed butter provides extra hydration and nourishment for your skin while prolonging the appearance of a tan.

Wallnut seed oil helps you maintain a fresh and radiant complexion. Contains antioxidants such as vitamin E, which can help to protect the skin from damage caused by free radicals and everyday stress.

Olive oil gives the skin a silky softness and more elasticity. It helps to reduce inflammation and redness in the skin.

Sunflower oil is also very rich in vitamins E, A, C and D, which are essential for hydrated and nourished skin.

Apricot kernel oil helps to tone a fair, dull complexion and restore its natural radiance. It can help to improve the tone and texture of the skin.

Rosemary extract helps reduce swelling and puffiness of the skin. It also helps heal burns and soothes the skin.
In the sun: Lather generously all over your body before and while sun tanning for the ultimate golden tan.
At home: Apply anytime as a body moisturiser for silky smooth skin.
How and when do I apply the product?
We recommend using it while you are sunbathing, you can use it as many times as you like. Reapply it every time after swimming, as it can wash off in the meantime.
What is it used for?
It is used to achieve a beautiful dark tan. With the butter, you'll achieve it faster and with less exposure to the sun's rays.
It is made from a rich blend of oils that provide moisture to the skin, which can prevent the tan from fading and ensure a faster tan.
Is Summer Glow a self-tanning cream?
Our product is not a self-tanning cream, it simply helps to achieve a beautiful dark tan faster and with less exposure to the sun's rays.
Does the product contain SPF?
The product does not contain sun protection.
Can I apply sunscreen before applying Summer Glow?
Of course, we recommend it, as this protects your skin from the sun's strong rays.
Can I also apply the product to my face?
As the product contains many different oils that are not non-comedogenic, we recommend that you only use the butter on your body to avoid unwanted breakouts.
What skin types is it suitable for?
It is suitable for all skin types.
Where is Summer Glow made?
Proudly made in Slovenia.
Is it natural and can I use it if I have sensitive skin?
Summer Glow is made from 100% natural ingredients. However, we recommend that you read the ingredients carefully before applying and check if it contains any ingredients you are allergic to. In this case, we advise against use.
What does Summer Glow smell like?
It has a pleasant, tropical scent, we say it smells like a refreshing summer cocktail. ;)
I left my cream on extremely high temperatures, is it still fine to use?
Yes. Your cream probably partly liquefied which has no impact on the quality. Just put it in the fridge for a short period or use it refrigerated if you prefer colder application of the product.
For how long will the product last?
One will be probably enough for your holiday retreat. Most beach babes prefer to buy two or even three 🙂 Just to make sure, they don't run out of it 🙂
THEOBROMA CACAO (COCOA) SEED BUTTER, JUGLANS REGIA (WALLNUT) SEED OIL, OLEA EUROPAEA (OLIVE) FRUIT OIL, HELIANTHUS ANNUUS (SUNFLOWER) SEED OIL, PRUNUS ARMENIACA (APRICOT) KERNEL OIL, PERFUME, DAUCUS CAROTA SATIVA (CARROT) ROOT EXTRACT, ROSMARINUS OFFICINALIS (ROSEMARY) LEAF EXTRACT, CITRAL, LIMONENE, LINALOOL.
Achieve deep and naturally tanned skin in less than 30 minutes
Specially formulated tanning butter filled with natural ingredients to achieve a natural tan that will leave you feeling confident and radiant. With a smooth and nourishing texture, Summer glow helps you achieve a flawless, even tan without spending hours in the sun.
Instant results, deeper tan
Beta-carotene and other nourishing ingredients work as natural tan enhancers that speed up the results even with shorter exposure to the sun. Glowy tan never looked so good on you! 🤩
Good to your skin.
Say goodbye to dry and dull skin that lacks the glow. Our tanning butter is packed with natural nourishing butters and oils so you don't have to compromise between a flawless tan and healthy, nourished skin - you can have both.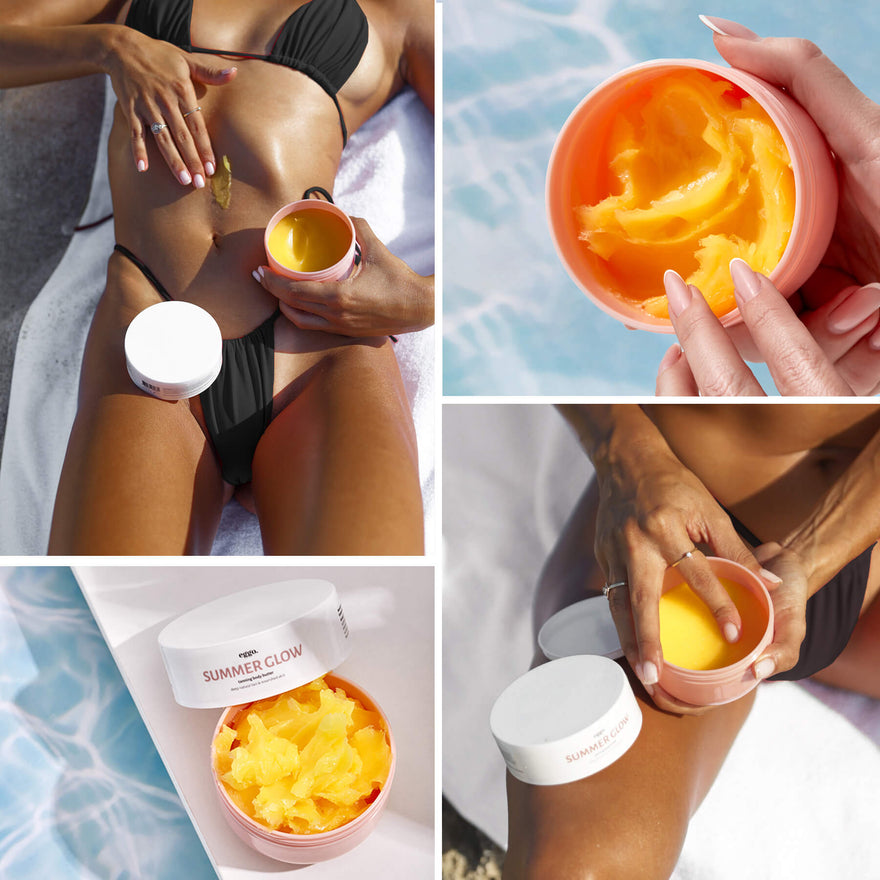 Smell that turns heads.
Our tanning butter smells like a summer cocktail - so good you might want to drink it. Smell as good as you will look thanks to the amazing tropical scent.
Why babes love it?
✔️ Achieve a faster and deeper golden tan
✔️ Vegan & natural
✔️ Intensively nourishing to your skin
✔️ Contains natural oils & butters
✔️ Stain free
✔️ Suitable for all skin types
✔️ Smells amazing
Other brands can't compare
Summer Glow
1
Beta carotene boots tan even when you are in the shade
Restores skin cells and gives your skin a boost of nourishment
Natural fluid without petroleum derivatives
Leaves no residue on clothes or towels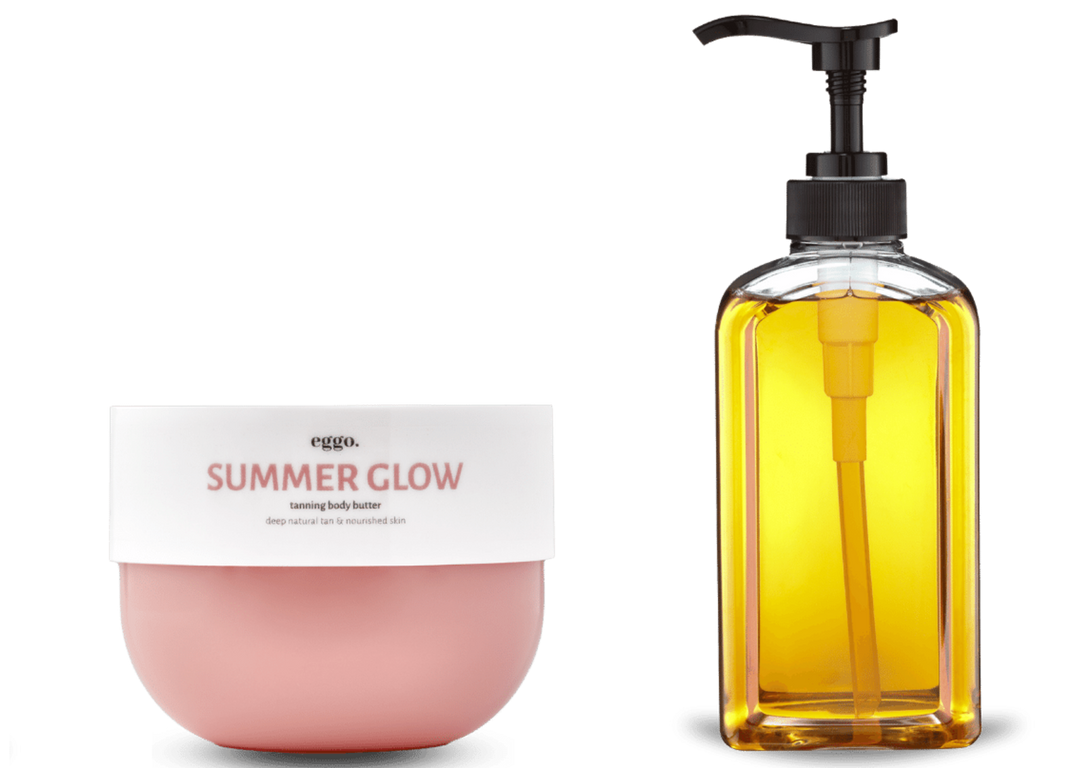 Other products
2
Conventional products only work if the skin is exposed to the sun for a long time.
The skin is dry after sun exposure
They contain artificial ingredients and petroleum products
Problems with spotting on clothing
"The secret to a faster golden tan revealed! ☀️"
Free delivery for orders over 100€
100% money-back guarantee
Winner of 4 Beauty Awards