A perfect bundle for your favourite skincare routine.
What is in the package?
Face Cleansing Gel
The first certified 100% organic face cleansing gel, specifically designed for cleansing with a sonic device. Oat proteins make a protective layer on the skin, while active ingredients leave the skin feeling soft and clean, without drying it out. Soap-free, vegan and dermatologically tested.
✔️ Calming and pore-reducing
Vitamin C & E rejuvenate the skin and even out the skin tone, niacinamide reduces pores, while hyaluronic acid thoroughly moisturizes the skin.
✔️ Non-foaming formula
Gently, but effectively cleanses all impurities, without foaming or irritating. The soap-free formula makes it appropriate even for very sensitive and problematic skin.
✔️ Non-drying formula
We added rich moisturizers and hyaluronic acid so they don't leave your skin dry or tightening.
✔️ Non-irritating
We removed all fragrances and perfumes as they are one of the main reasons for itchiness or irritating allergic reactions. Our gel is dermatologically tested and 100% organic, making it completely suitable for the most demanding and sensitive skin types.
✔️ Protects the skin barrier
Oat proteins make a special layer on the skin to protect it from environmental stress. As they are able to lock in up to 50% more moisture, they nourish the skin well and add a soft touch to it.
Oat proteins
Protect the skin barrier by creating a special layer on your skin. They lock in the skin's moisture, soothe and protect from environmental stressors, which makes it the main ingredient for a pleasant eggo skincare routine.
Hyaluronic acid
Even though our body is able to produce it by itself, over the years the levels start to drop. This ingredient moisturizes the skin thoroughly and helps to maintain its moisturizing levels, making it look fresh, plump and healthy. It can also help with the first signs of ageing.
Vitamins C and E
These two antioxidants improve the skin's tone and texture as well as effectively fight against hyperpigmentation. They brighten the skin's complexion making it look fresh.
Niacinamide
Also known as vitamin B3 reduces pores and regulates the production of sebum and oils, which makes it a perfect ingredient for oily skin type. It may also help treat acne or eczema.
Full ingredient list
Aqua*, Propanediol*, Glycerin*, Coco-Glucoside*, Carrageenan*, Ascorbic acid*, Caprylyl/Capryl Glucoside*, Sodium Cocoyl Glutamate*, Glyceryl Caprylate*, Citric Acid*, Polyglyceryl-6 Oleate*, Sodium Surfactin*, Potassium Sorbate, Sodium Benzoate, Sodium Hyaluronate*, Tocopherol*, Helianthus annus seed oil*, Coco-Caprylate/ Caprat*, Niacinamide, Hydrolyzed Oat Protein*
* Ingredients of natural origin (99,0 %)
Frequently asked questions about gel
+
Is the gel appropriate for all skin types?
Due to its gentle ingredients it is appropriate for all skin types. It was based on natural ingredients, combined with active ones, which give an unique formulation, cleanse thoroughly and work well with our eggo.
Can I use the gel with eggo?
Yes, of course, this is why we made it. :) Its formula was developed especially for use with eggo and this how you will achieve the best effect, but you can also use it without eggo - on those days that you just want to cleanse your face fast and efficient.
How much gel should I use?
It is enough to use just a size of a pea. If you are using it with eggo, then you might want to use more, depending on the smoothness effect and how much of a pleasant cleanse you are looking for. Put it on your face in circular motion, then wash off.
What are the key ingredients of this gel?
It is made of hyaluronic acid, vitamin C and E, niacinamid in naravne ovsene proteine. Vse sestavine so naravnega izvora, kar potrjuje tudi certifikat naravnosti Ecogea.
Is the gel organic, vegan, animal friendly?
Yes, it is made of 100% organic ingredients, which are also vegan and animal friendly. Our gel is Ecogea certified.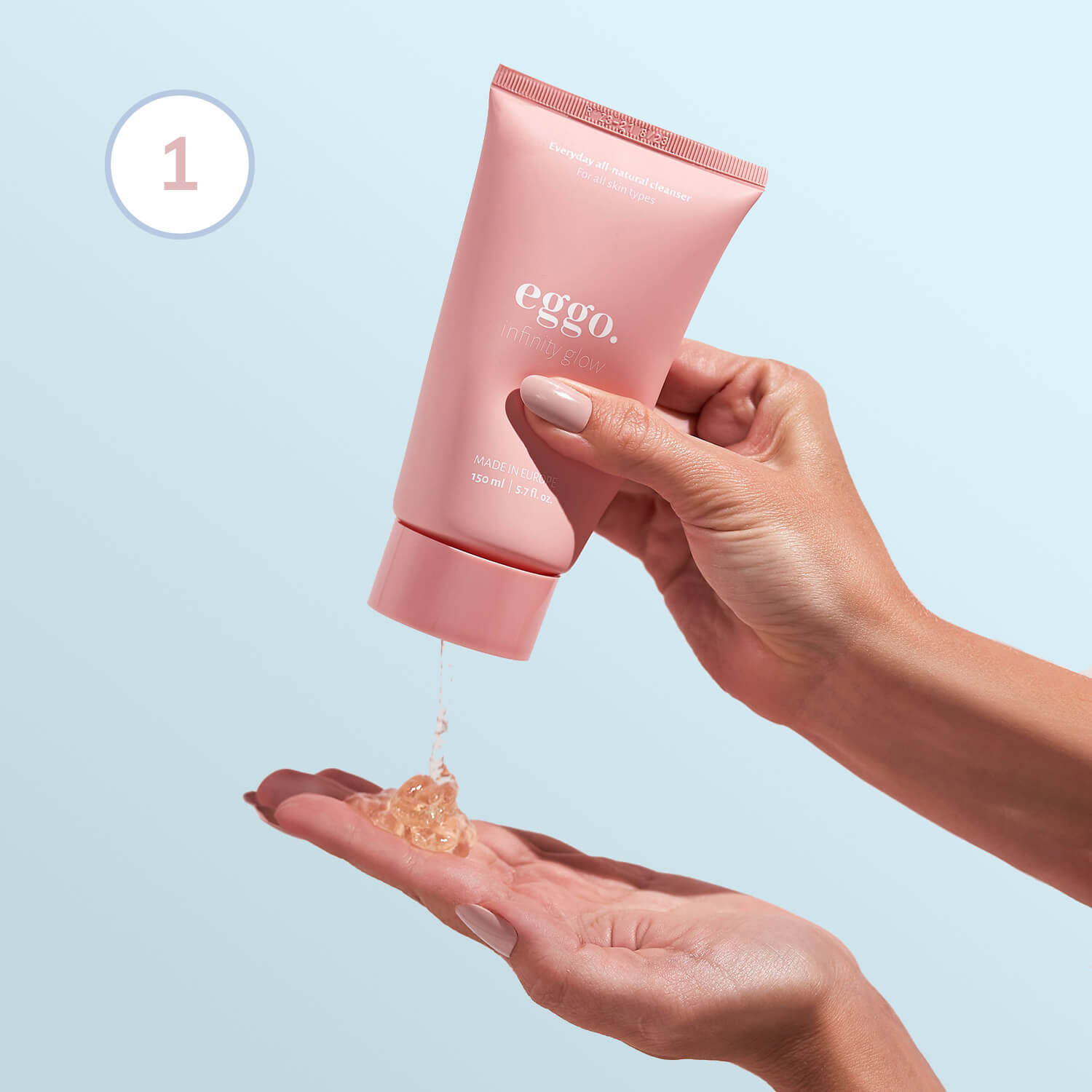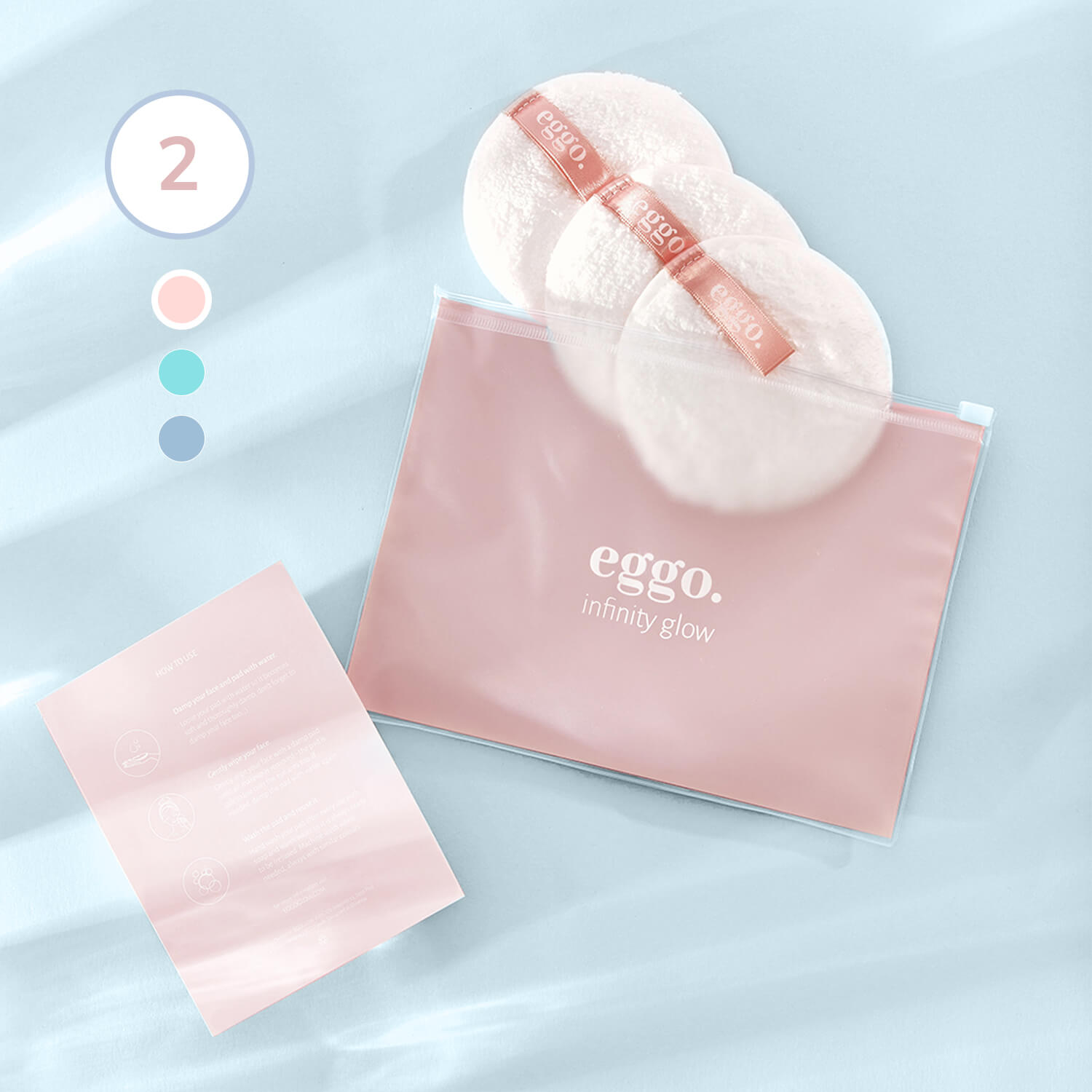 Magic Pads
Wet, remove, rinse, and reuse! Environment-friendly and sustainable pads effectively remove even waterproof makeup and are made of special cotton fibres that are activated only with water. Swap cotton pads for Magic Pads and save up to 3,000 cotton pads a year.
1. Run the pad under water and soak well. Squeeze the pad to remove extra water. A damp pad means that the fibres are activated and ready for use.
2. In gentle, circular motions remove the makeup from your face. Use both sides of the pad for maximum efficiency. The pad is safe to use on your eyes, too. However we recommend you place the pad over the eyes first, so the water and fibres can do their magic, wait a few seconds, then wipe the mascara away.
3. After use, wash the pad underwater and let it dry. EGGO Magic Pad is ready to be used again.
Machine wash at 40 degrees after a few uses or at least once a week. Wash with similar colours and without fabric softener.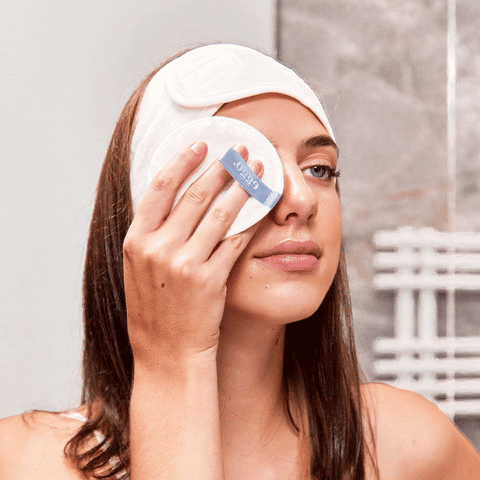 Frequently Asked Questions
+
Ok first, does it really work?
Try it and return it if it doesn't. 😝 Our pads were designed to remove even waterproof makeup using only water. If you really want to deeply cleanse your pores too, we recommend a double cleanse which can be done with our 100% natural face cleansing gel.
What should I use EGGO Magic Pads with?
The only thing you need is water. 💧 Rinse the pad well in the water, then squeeze to remove the excess of it. The pad is now ready to remove your makeup effectively.
Can I use it over the eyes?
Yes, of course. Our pads remove waterproof makeup too. When using over the eyes, we recommend you place the pad on one eye and wait for a few seconds for the water to melt the mascara and the fibres to activate. Then gently wipe away the mascara and eye makeup.
Can I use it multiple times a day?
Yes, you can use it whenever you need to remove your makeup.
How do I wash them?
Simply put them in the washing machine - and wash them with similar colours at a temperature of up to 60 degrees, preferably without the fabric softener. Air-dry, not tumble-dry.
How often should I wash them?
We recommend washing them after every use. Keep in mind that it is the easiest if you have one pad available for each day, so you do the washing only on the weekends. 😉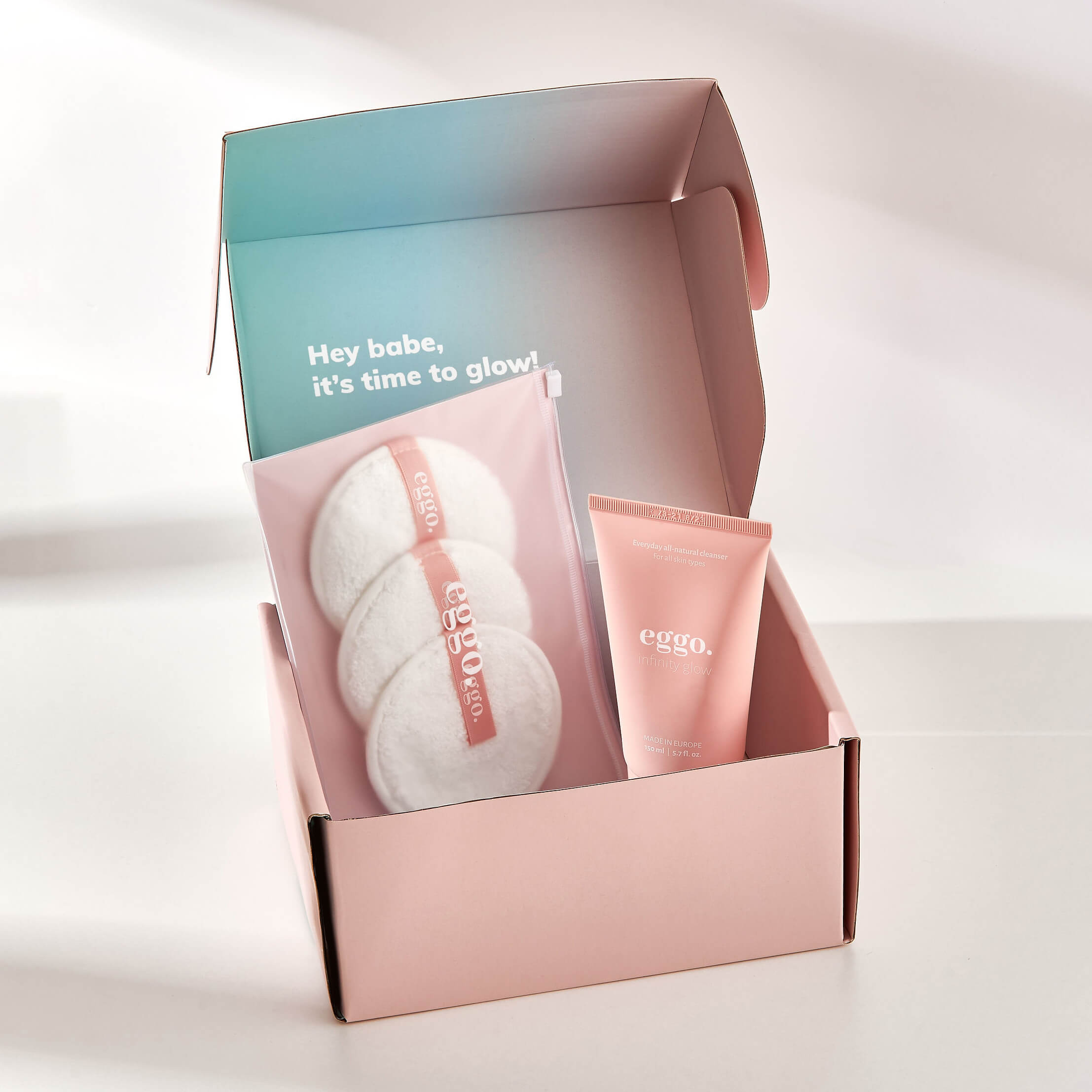 Frequently Asked Questions 💬
+
What does sonic cleansing mean? 🧽
Sonic technology represents cleansing with very fast vibrations, which with up to 8500 vibrating pulses per minute remove impurities, clean pores and massage and remove dead cells from the face.
Why is sonic cleansing useful at all?
You've probably cleaned your face with your hands or cotton pads by now, haven't you? 😉 Bacteria accumulate on the hands during the day, which you can then transfer to the face with your hands. This causes pimples on your skin or the accumulation of other impurities that worsen the condition of the skin.
How often is it recommended to use? Can overuse destroy skin?
The frequency of use depends mainly on your skin. 😊 We recommend that you start slowly only a few times a week to see how your skin responds to it. Then you can increase or decrease the frequency, depending on what suits you. If you use it every day, a minute of cleaning will be enough, but if you use it only a few times a week, it can be up to three minutes at a time - after that the EGGO automatically shuts off. 🙌🏼
Can I use it in the shower? 💦
Yes! ☺️ There is nothing better than being able to save some time and do a facial care along the way.
Should I use gel, foam or oil for cleansing? 🤔
The gel is the most universal and you can use it regardless of your skin type, but just read on if the selected product happens to be more suitable only for a certain skin type. The structure of the gel also works best under the bristles of the EGGO device as it makes the device glide better on the skin.
Which side should I massage and which should I clean my face with?
With the one that suits you best. 🤩 The front with smaller and softer bristles is for cleaning, and the back with thicker and harder bristles for massage.
Why silicone bristles?
Unlike synthetic bristles or sponges, bacteria do not stay in silicone bristles. You can also wash the silicone bristles more thoroughly after the treatment and dry them faster.
Do the bristles wear out?
We don't think you're going to wear them out. 😊
How do I clean the device?
After the ego treatment is over, you just rinse the device well under lukewarm water and place it in a stand to dry. Before connecting it to the charger, make sure that the contact is completely clean to prevent accidental short circuits. ⚡️
Can I share the device with my sister or boyfriend?
In principle, it is not recommended to share the device with another person, as it is a facial treatment in which you do not want to apply additional bacteria to the face. "We don't share eggos!" 😆
How long does the battery last? 🔋
With one charge, you can use the EGGO device for up to 2 months, but this depends on the frequency of use. It can also last longer if you do not use it twice a day.
How do I charge it?
Simple - you place the EGGO in the enclosed stands and connect the stand to the charging cable. Charge it when it is empty and preferably overnight so that the battery will definitely be charged for the next day.
Is the device suitable for men?
Of course, why not. And they adore it!. 😊
Delivery and payment methods 📦
+
SHIPPING:
We offer you free shipping on all orders over 50€.
If the product is in stock, then we ship on the same day, if the order is made until 1pm. All orders that are made during the weekend are shipping the next working day. GLS takes care for fast delivery and makes sure that your package arrives in 3-5 business days.
PAYMENT METHOD:
PayPal
Credit cards: Visa, Mastercard, American Express
Klarna
iDEAL
As seen in